In today's world, it is not hard to find stories of potential protests and demonstrations across all media outlets. Imagine being faced with the impending threat of possible rioting and looting of your business and paying an out-of-pocket expense to board up your windows and doors to keep your business from becoming a target. In a situation like this, it is comforting to know that you can lean on your property insurance carrier to help you through these expenses.
Illinois Casualty Company (ICC) is continuously working to provide the best products for our niche. Our Protection of Property coverage is Additional Coverage that applies to the necessary and reasonable expenses incurred to temporarily safeguard Covered Property at the described premises against the threat of imminent covered direct physical loss or damage by a "specified cause of loss".
The "specified cause of loss" must be imminent, and the coverage applies to expenses incurred within 72 hours prior to the direct physical loss or damage to Covered Property.
The Limit of Insurance is based on the applicable program endorsement and includes a per premises limit, up to $10,000 for all described premises. Below is a list of available program endorsements and the applicable Limit of Insurance available for each.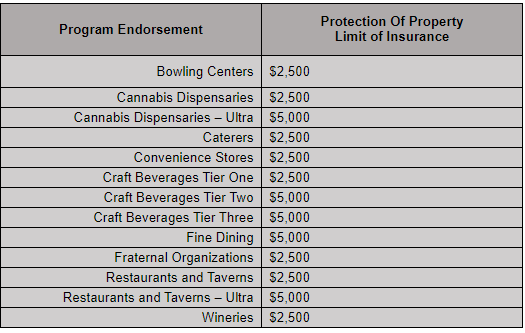 For more information on how your food and beverage business can benefit from our expertly crafted insurance products and services, visit www.ilcasco.com. You can find an ICC agent in your area by using our Find an Agent search.